In Part I of this series we took a look at the rainfall and temperature data from the Big Bend in West Texas. In Part II we will look at the weather data from South Texas. For the purposes of this article, South Texas is defined as Atascosa County, DeWitt County, Gonzales County, Guadalupe County, Karnes County, and Wilson County.
Since the 2010 bluebonnet season was the best bloom in the last twenty five years or more, the weather data from that season is presented alongside the current data as a frame of reference for what the ideal conditions are. Though the data presented in the table below came from a different source than that of the departure from normal rainfall maps, the two coincide fairly well.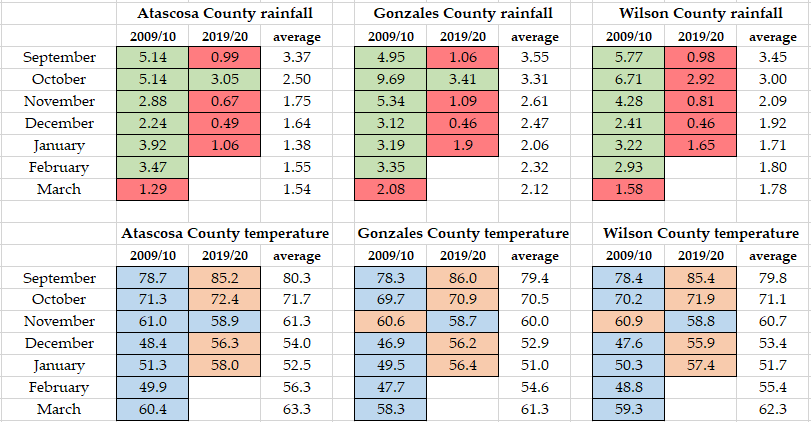 Data was only available through January at the time of this writing, however, it is my opinion that February is one of the least important months for rainfall in terms of bluebonnet development, and the bloom begins in mid-March. Overall rainfall throughout the past five months has been below average, and significantly so in some months. Overall temperatures have been above average every month except November, while January was recently reported as the fifth warmest on record in the United States. This has the potential to affect the vernalization process.

Seed germination period
Bluebonnet seed germination occurs from sometime in September to sometime in November and requires average to above average rainfall as well as warm temperatures. As noted in the table above, the warm temperatures requirement was satisfied.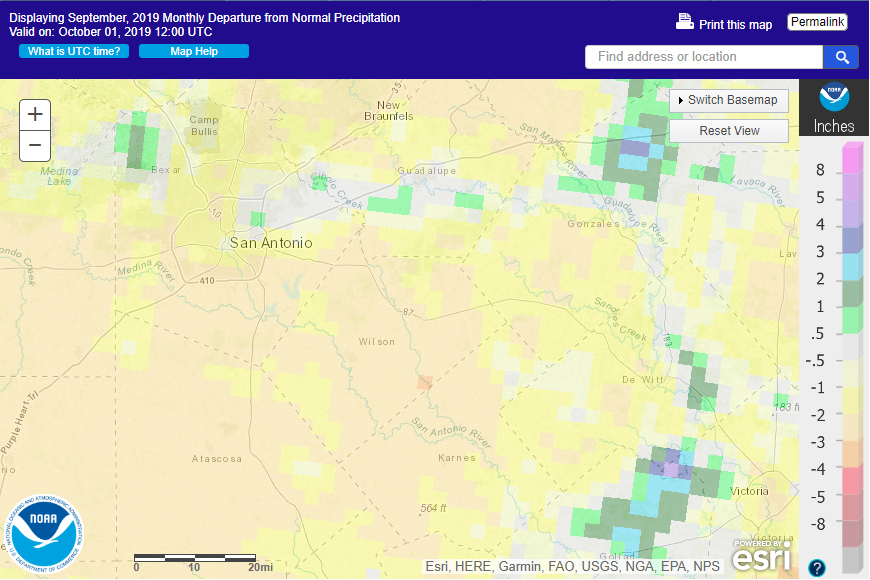 Rainfall was anywhere from one to three inches below average across South Texas during September 2019. Certain areas in northern Gonzales County did see above average rainfall, however, that specific area is not particularly known for bluebonnets to my knowledge.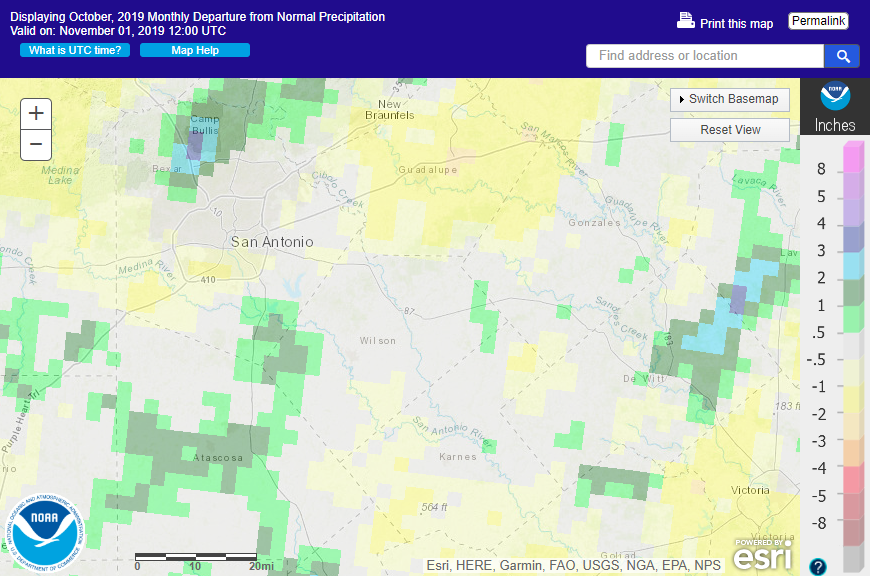 A bright spot in an otherwise discouraging weather year, October 2019 rainfall was average to above average across most of South Texas. Of note are central Atascosa County and northern DeWitt County, which saw up to two inches above average in places. Also noteworthy is that most of Gonzales County and Wilson County saw average rainfall.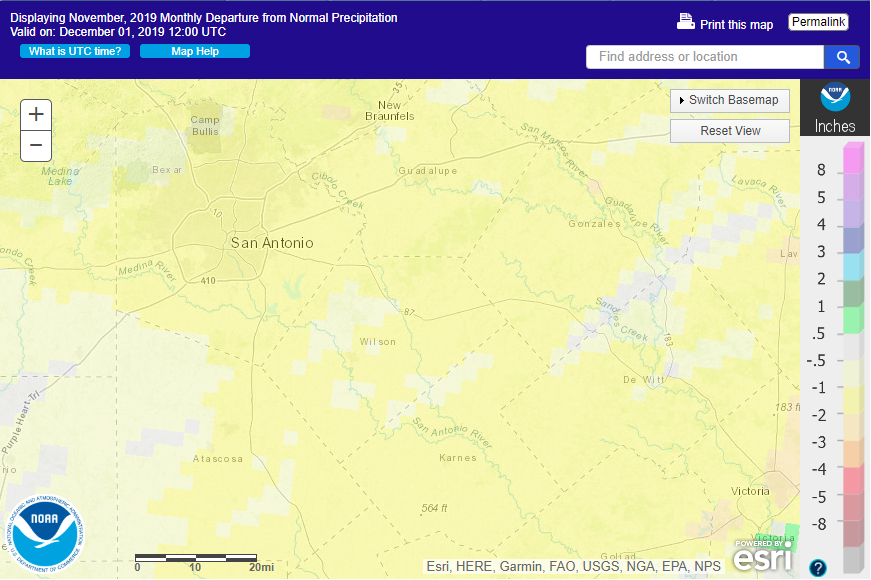 November 2019 rainfall mimicked September 2019 rainfall, and was anywhere from one to three inches below normal across South Texas.

Rosette development period
By this point all bluebonnet seed that is going to germinate will have germinated and the plants are developing a root structure and going through vernalization. Though temperatures were warmer than average during December and January that doesn't necessarily mean that they were too warm for vernalization, however, the data from the 2010 bluebonnet season indicates that cooler than average temperatures are optimal.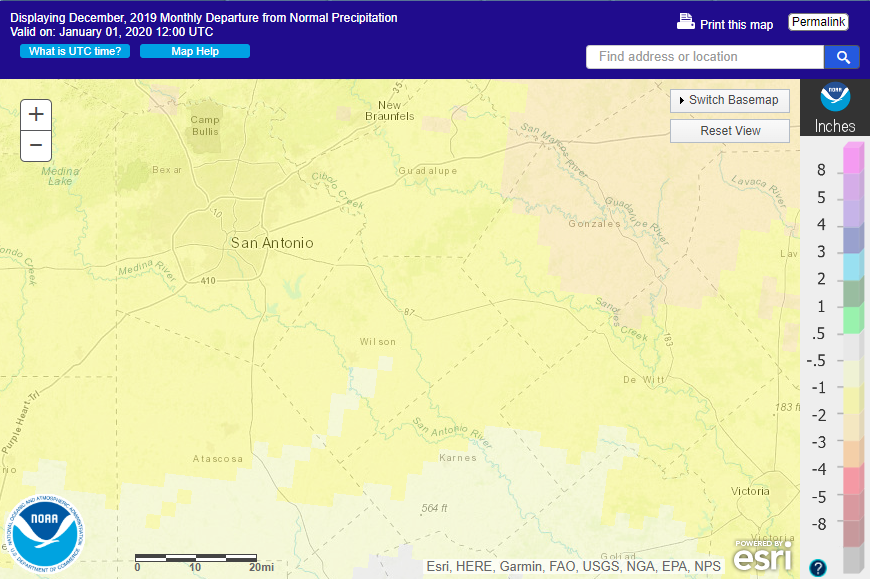 December 2019 rainfall was anywhere from a half inch to three inches below average across South Texas.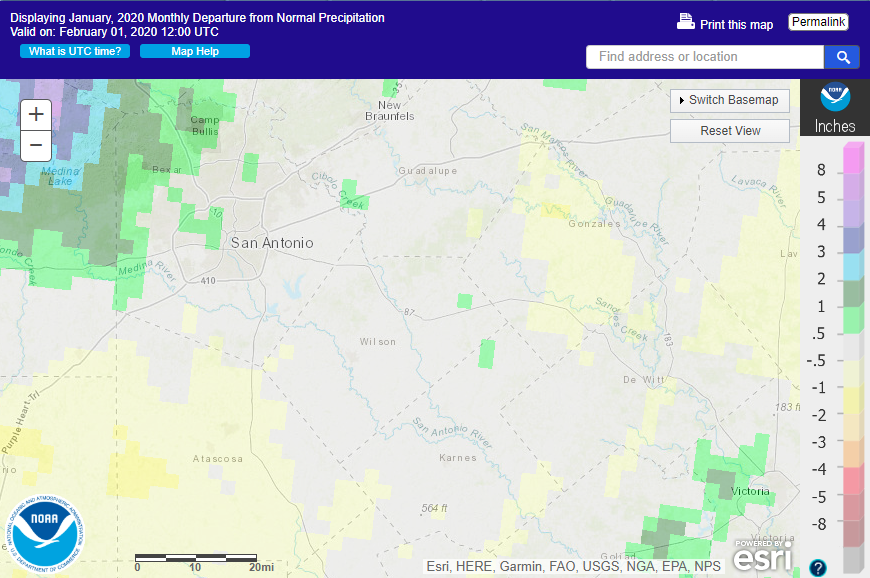 January 2020 rainfall was average across most of South Texas, but below average across most of Atascosa County.

2020 South Texas bluebonnet forecast
Given the overall below average rainfall over the last five months and the above average temperatures, there will not be the large numbers of bluebonnets blooming in South Texas this year that were present in 2019. I do believe there will be bluebonnets to be seen, and a chance of finding a few gems here and there, but for the most part expectations should be tempered. Overall, I expect South Texas to have more bluebonnets than the Big Bend this year, but perhaps not more than the Texas Hill Country. Central Atascosa County and northeastern DeWitt County had the most favorable conditions for a good bloom, although the latter is not known for widespread displays of bluebonnets.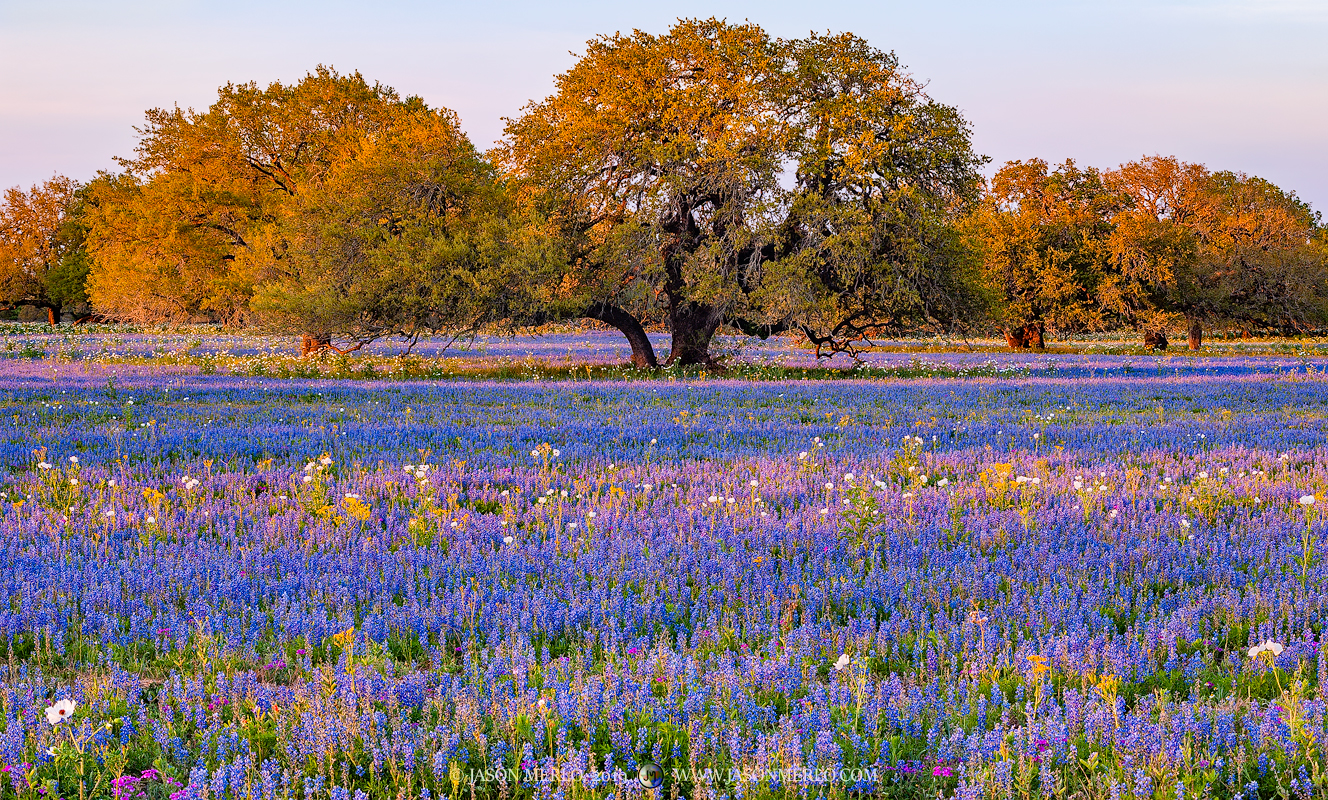 In Part III of this series we will take a look at the data and forecast the 2020 bluebonnet season in the Texas Hill Country. Stay tuned...

Sources
Merlo, J. (2020, January 11). Contributing factors for a bluebonnet bloom (Part I). Retrieved from https://www.jasonmerlo.com/gallery/contributing-factors-bluebonnet-bloom-texas/
Merlo, J. (2020, January 12). Contributing factors for a bluebonnet bloom (Part III): South Texas. Retrieved from https://www.jasonmerlo.com/gallery/contributing-factors-bluebonnet-bloom-south-texas/
NOAA. (n.d.). Advanced Hydrologic Prediction Service. Retrieved from https://water.weather.gov/precip/#
NOAA. (n.d.). Climate at a Glance. Retrieved from https://www.ncdc.noaa.gov/cag/county/mapping
NOAA. (2020, February 6). January 2020 was 5th warmest on record for the U.S. Retrieved February 11, 2020, from https://www.noaa.gov/news/january-2020-was-5th-warmest-on-record-for-us
Vernalization. (2019, December 17). Retrieved from https://en.wikipedia.org/wiki/Vernalization