In Part II of this series we took a look at the rainfall and temperature data from South Texas. In Part III we will look at the weather data from the Texas Hill Country. For the purposes of this article, the Texas Hill Country is defined as Llano County, Mason County, San Saba County, Blanco County, Burnet County, and Gillespie County.

Though there are many contributing factors for a bluebonnet bloom, the most important by far is rainfall. Below, rainfall maps showing the departure from normal rainfall are presented for each month from September 2021 to January 2022.
Because the purpose of this series of articles is only to attempt to identify the locations that are most likely to have bluebonnets, rainfall is the only bloom factor that is examined. I have chosen to omit the data from February because it is not available at the time of this writing, and also because I believe it is the least important month in terms of affecting a bluebonnet bloom, even though in all likelihood it does have some bearing on the bluebonnets' development.
Seed germination period
Rainfall during what I term the seed germination period is the most crucial time for rainfall during bluebonnet development. The germination period runs from sometime in September to sometime in November. This doesn't mean that bluebonnet seeds can't germinate during other months of the year, just that this is when the large majority of them will germinate, if they are going to do so.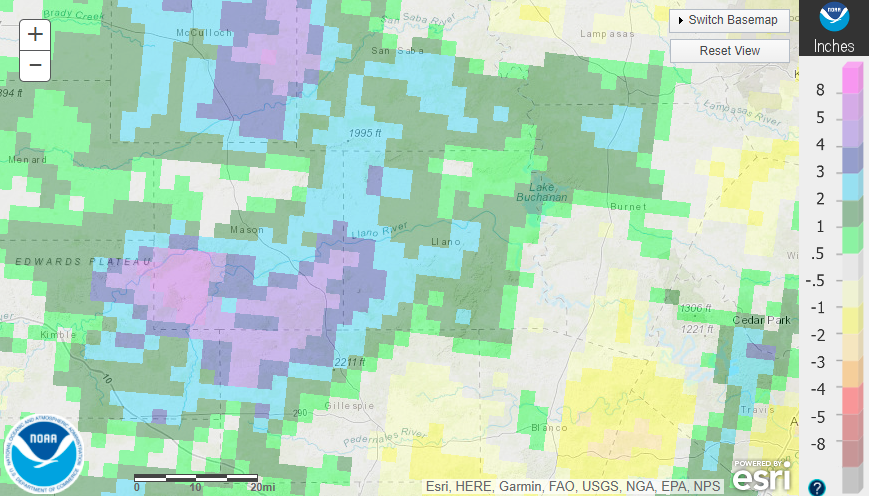 September 2021 rainfall was very good across the majority of the Texas Hill Country, and was above average throughout the entirety of Llano, Mason, McCulloch, and good portions of San Saba and Burnet Counties. The greatest amount of rain fell in southern Mason and western Llano Counties. A closer look at the daily observed rainfall during September 2021 shows almost continuous rainfall throughout the whole month, with a large majority of it falling on the 25th. The fact that most of the rain fell near the end of the month may be important to note, in that it might be more beneficial for bluebonnet seed germination than heavy rains at the beginning of the month would have been.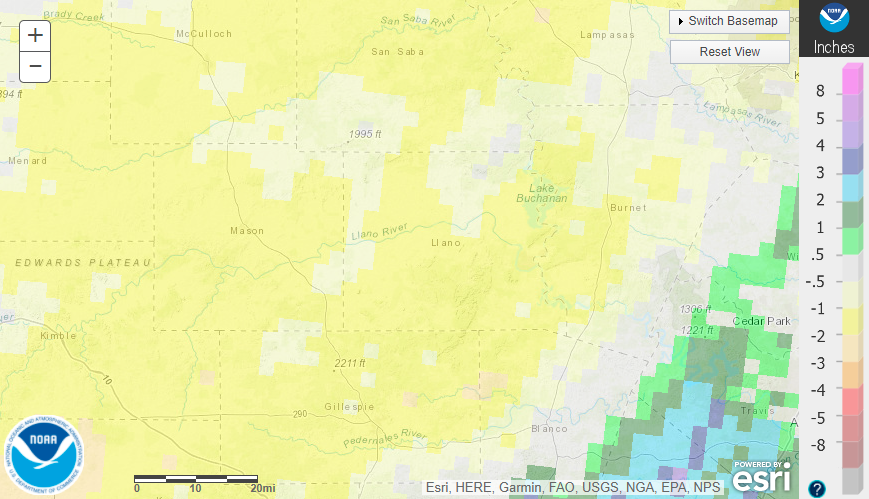 After a great start in September, October 2021 rainfall was half an inch to two inches below average across most of the Hill Country. This would be very concerning for the 2022 bluebonnet season's prospects had September not seen as much rain as it did.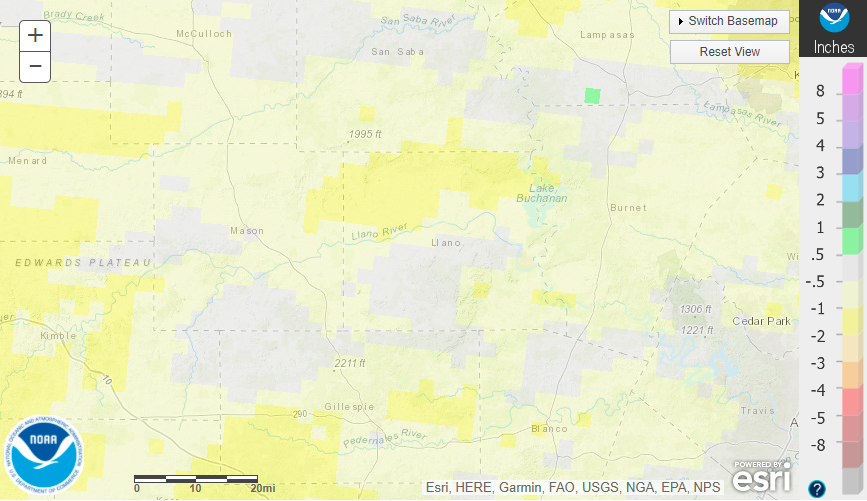 Rainfall during November 2021 was closer to the average than it was in October, although it was still up to two inches below average in some areas, most notably in northern Llano County.
Rosette development period
The rosette development period runs from sometime in November to sometime in February. This is the period when bluebonnet rosettes are going through a process known as vernalization and developing their root structure. While rainfall is still important during this time, it is not nearly as important as it is during the seed germination period.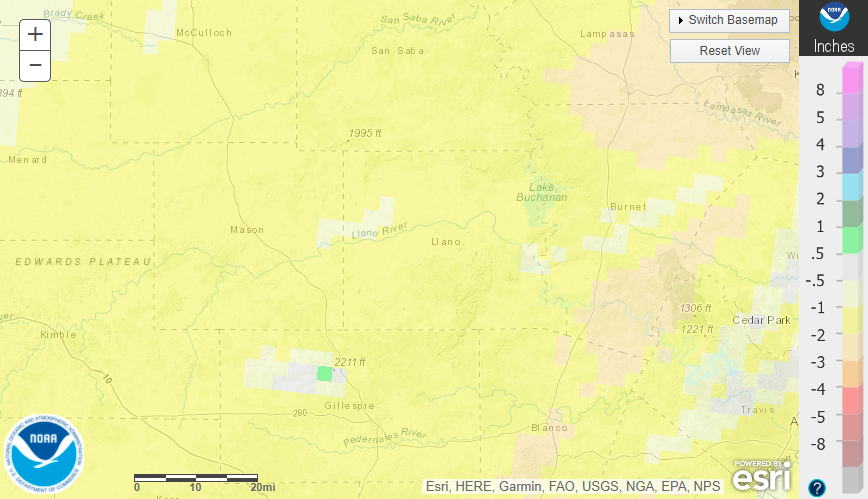 Rainfall in December 2021 was once again below average across the entire Texas Hill Country.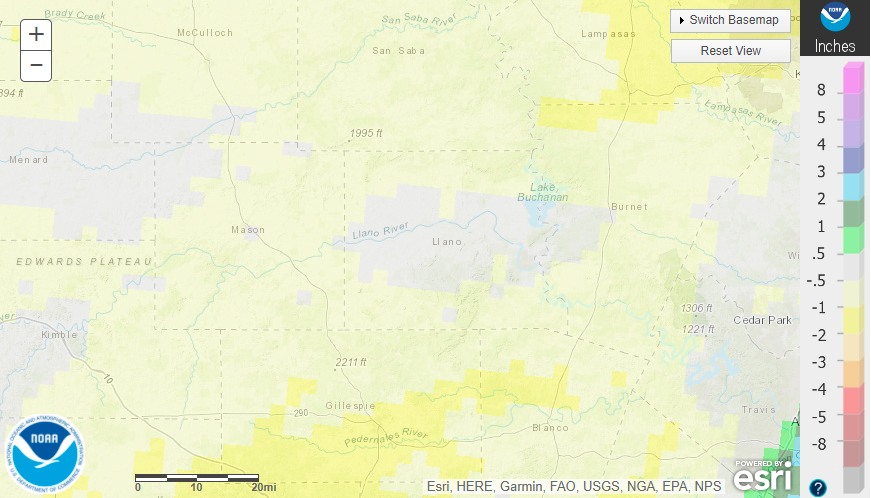 January 2022 rainfall was an improvement over December, but still mostly below average. Central Llano County along the Llano River saw about average rainfall.

2022 Texas Hill Country bluebonnet forecast
Predicting a bluebonnet season is difficult to do with accuracy due to the fact that there are so many different factors are involved in a bloom that are impossible to evaluate. Each wildflower season is unique and presents different opportunities.
Though I do not expect the 2022 Texas Hill Country bluebonnet season to be as good as I think it will be in South Texas, I believe that it will most likely be a better year than both 2020 and 2021. The continuous rainfall throughout September 2021 likely got a fair number of seeds to germinate, and even though October and November rainfall was below average across most of the region, it was not as far below average as it was in October/November of either 2019 or 2020.
Based on the available data I don't expect to see a whole lot in Burnet or Blanco Counties, though I will still make a pass through those counties just to be sure my prediction isn't incorrect. I expect the best bluebonnet displays to be found in southern Mason County as well as western Llano County, although it's always possible to find pockets that have nice displays in other areas.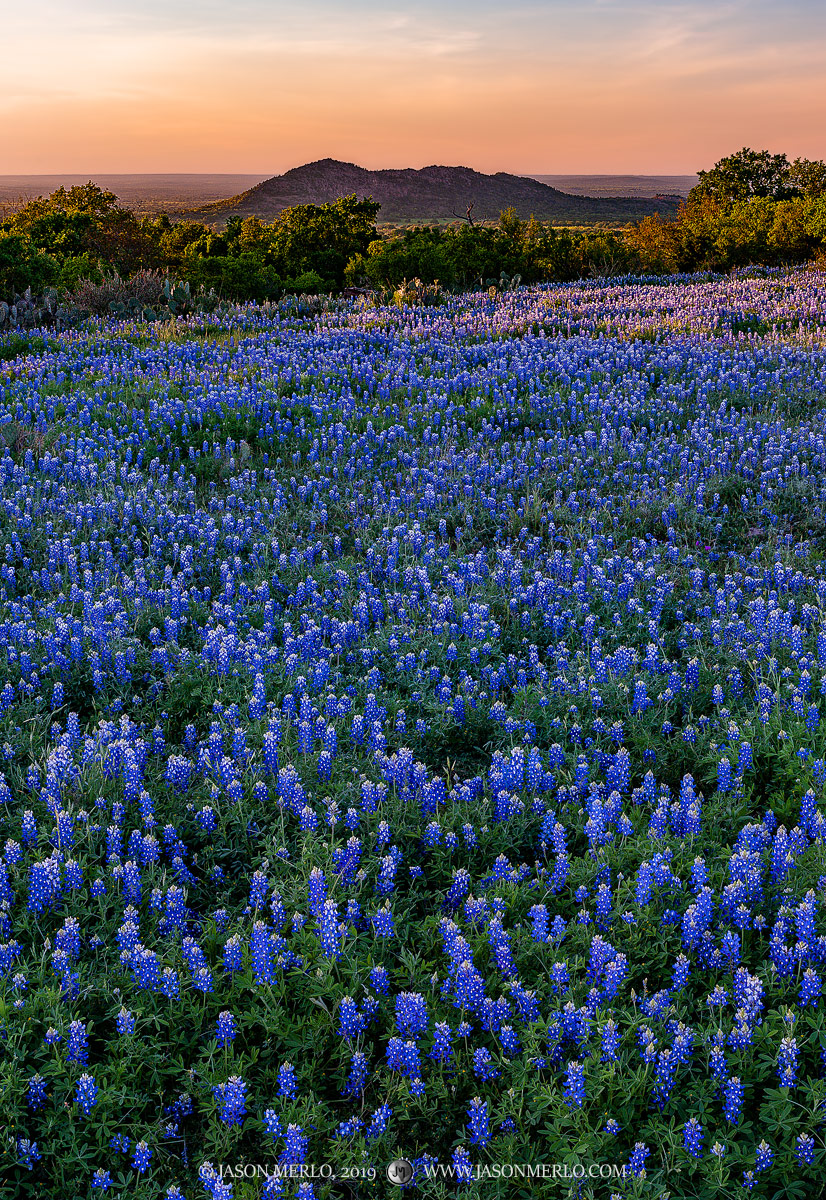 SOURCES

Merlo, J. (2020, January 11). Contributing factors for a bluebonnet bloom (Part I). Retrieved from https://www.jasonmerlo.com/gallery/contributing-factors-bluebonnet-bloom-texas/
Merlo, J. (2020, January 18). Contributing factors for a bluebonnet bloom (Part IV): Texas Hill Country. Retrieved from https://www.jasonmerlo.com/gallery/contributing-factors-bluebonnet-bloom-texas-hill-country/
NOAA. (n.d.). Advanced Hydrologic Prediction Service. Retrieved from https://water.weather.gov/precip/#
Vernalization. (2019, December 17). Retrieved from https://en.wikipedia.org/wiki/Vernalization