In Part II of this series we took a look at the rainfall and temperature data from South Texas. In Part III we will look at the weather data from the Texas Hill Country. For the purposes of this article, the Texas Hill Country is defined as Llano County, Mason County, San Saba County, Blanco County, Burnet County, and Gillespie County.

As mentioned in Part II, the 2010 season is the benchmark for bluebonnet seasons, so the current season's rainfall data is presented alongside the 2010 data in order to give a frame of reference.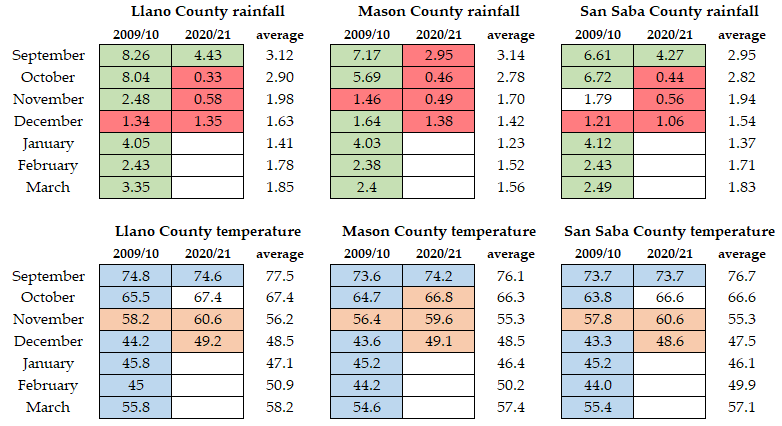 As we can see in the table above, rainfall was ample in September, but appears to have dropped off significantly after that. Let's look at the rainfall maps so we can get a better idea of what happened.
Seed germination period

Rainfall during what I term the seed germination period is the most crucial time for rainfall during bluebonnet development. The germination period runs from sometime in September to sometime in November.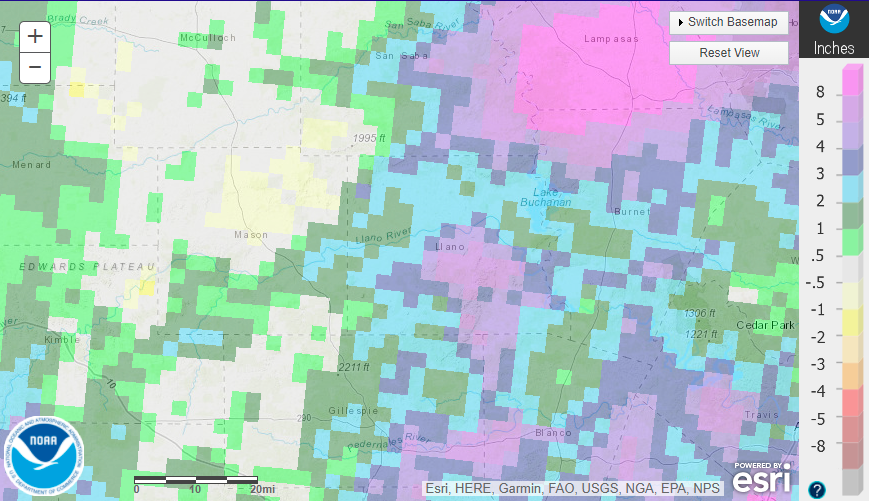 Llano, Burnet, and Blanco Counties and the eastern half of Gillespie County were off to a great start in September 2020, with anywhere from one to five inches above normal rainfall. The western half of San Saba County and most of Mason County were not as fortunate.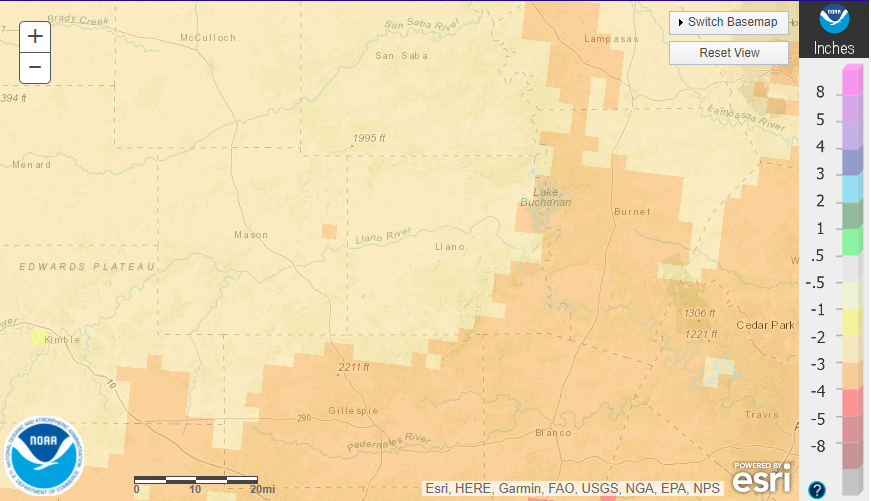 After a pretty good start in September, rainfall in October 2020 was abysmal with the entire region two to three inches below normal. Only .3 to .5 inches fell across the area. As with both the Big Bend and South Texas, this almost certainly sealed the fate of the 2021 bluebonnet season in the Texas Hill Country.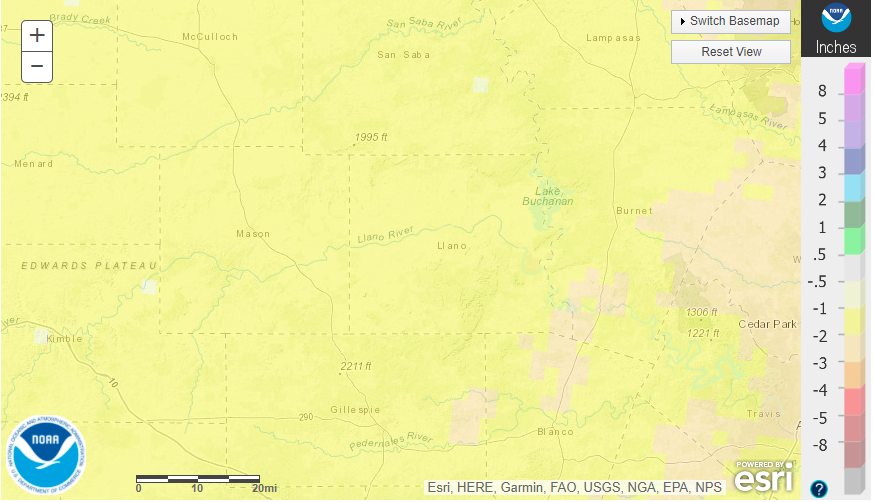 And if October 2020 rainfall wasn't enough to do it, rainfall in November 2020 put an end to any hopes of a decent bluebonnet season in 2021. The region was one to two inches below normal with only about a half inch of rain falling in the month.

Rosette development period
The rosette development period runs from sometime in November to sometime in February. This is the period when bluebonnet rosettes are going through a process known as vernalization and developing their root structure. While rainfall is still important during this time, it is not nearly as important as it is during the seed germination period.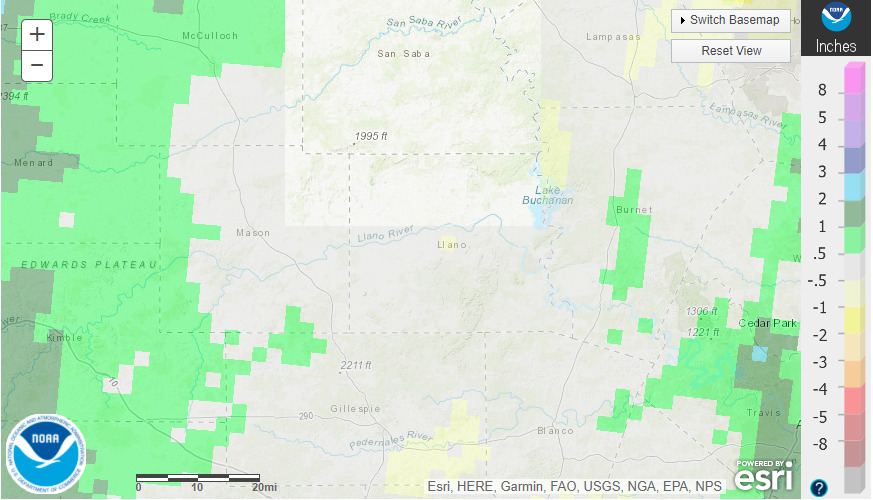 Though December rainfall was about average across the region, it doesn't matter at this point.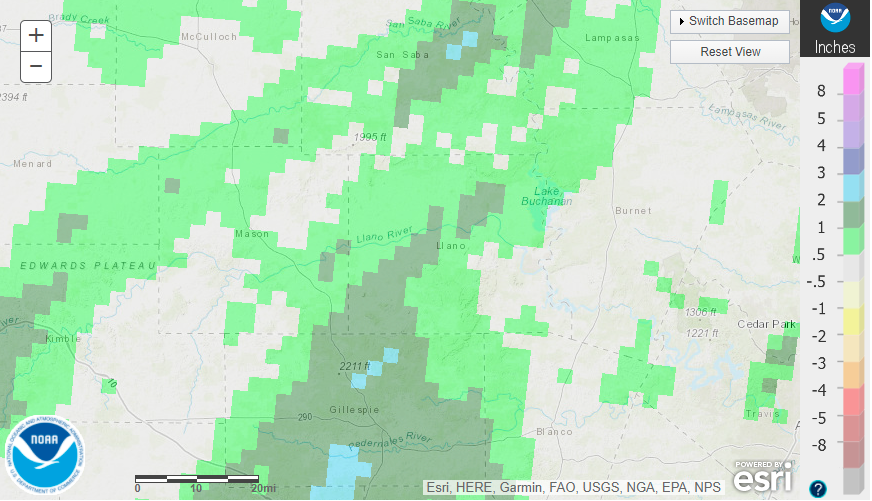 And again, all the rain in the world falling in January 2021 is not going to save this bluebonnet season if no seeds germinated back in the fall.
2021 Texas Hill Country bluebonnet forecast
If you haven't picked up on how I feel about the 2021 bluebonnet season in the Texas Hill Country yet, I'll go ahead and state it plainly: it's going to be bad. In my opinion it's going to be as bad as 2018 was. For those who don't remember, there were hardly any bluebonnets to be found anywhere. Maybe there will be an area of land somewhere that happened to get some seeds germinated and has a decent little display, but I wouldn't count on it. If there is such a pocket it will most likely be in the eastern half of the Hill Country due to September's rainfall. If you choose to head out this spring, adjust your expectations accordingly and don't forget that there is plenty of beautiful country to see regardless of whether bluebonnets are blooming or not.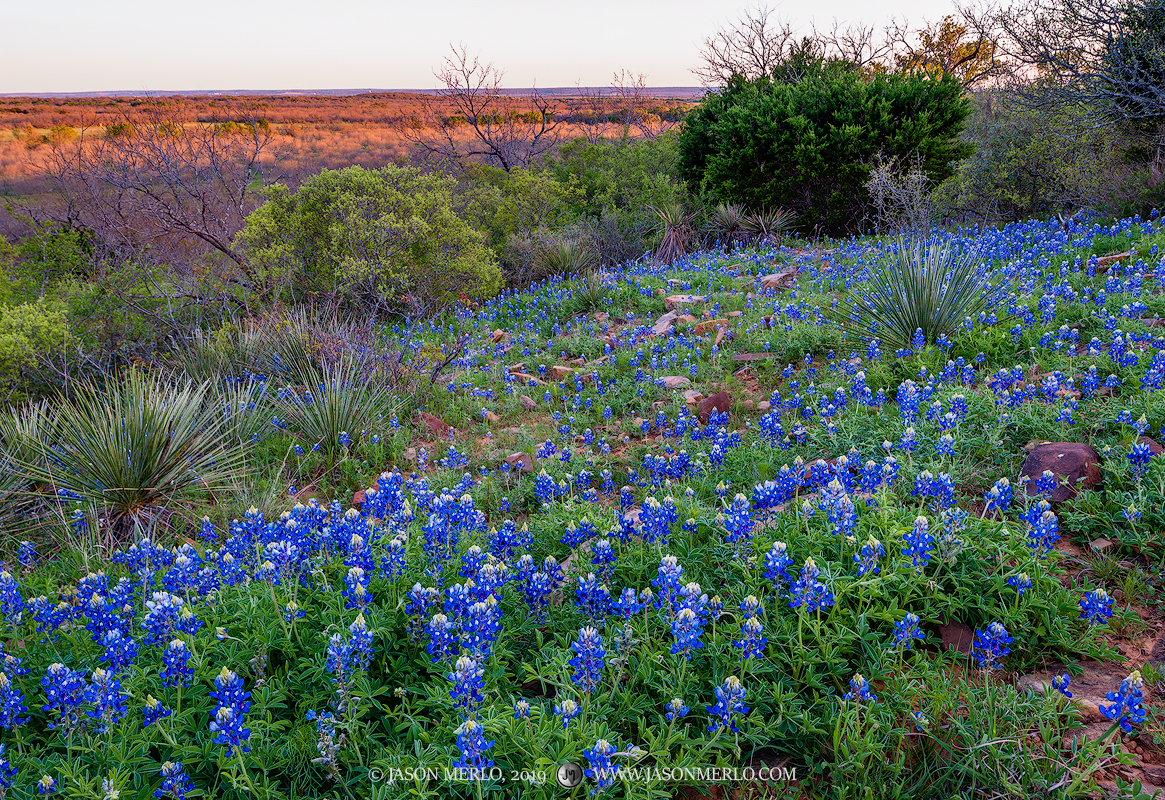 SOURCES

Climate at a Glance. (n.d.). Retrieved February 06, 2021, from https://www.ncdc.noaa.gov/cag/...
Merlo, J. (n.d.). 2020 Bluebonnet Season Review. Retrieved from https://www.jasonmerlo.com/gal...
Merlo, J. (2020, January 11). Contributing factors for a bluebonnet bloom (Part I). Retrieved from https://www.jasonmerlo.com/gallery/contributing-factors-bluebonnet-bloom-texas/

Merlo, J. (2020, January 18). Contributing factors for a bluebonnet bloom (Part IV): Texas Hill Country. Retrieved from https://www.jasonmerlo.com/gallery/contributing-factors-bluebonnet-bloom-texas-hill-country/
NOAA. (n.d.). Advanced Hydrologic Prediction Service. Retrieved from https://water.weather.gov/precip/#

Vernalization. (2019, December 17). Retrieved from https://en.wikipedia.org/wiki/Vernalization